Xcellaris Pro Pigment Correction
Xcellaris Pro Pigment Correction is a cosmetic serum to be used by skincare professionals after micro-needling treatment, it is specifically designed to correct the signs of pigmentation and even the skin tone, and is safe for all skin types!
The Xcellaris Pro High Light Serum is a cosmetic serum to be applied on the skin at the clinic in order to target the hyperactive melanocytes that may cause hyper-pigmentation.
In addition, the client is provided with a home-care Xcellaris Pro Bright Skin Lotion to be applied on the skin as a day cream between sessions to further improve the overall results.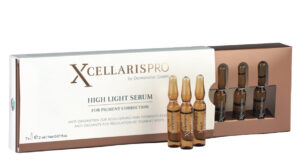 Xcellaris Pro Pigment Correction Treatment Kit:
HIGH LIGHT SERUM a box of 7 ampules (2ml each) with anti-melanogenic & anti-oxidant ingredients.
Main Benefits:
Regulates melanogenesis
Corrects hyperpigmentation
Smoothens skin complexion
Evens the skin tone
Improves cell turnover
Reduces wrinkles and pore size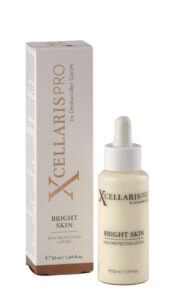 BRIGHT SKIN LOTION a 50 ml lotion with vitamins A, C, E, and Niacinamide.
Main Benefits:
Reduces risk of hyperpigmentation
Evens the skin tone
Hydrates and nourishes the skin
Mattifies oily skin
Pleasant scent
The HIGH LIGHT ampules are infused in-clinic once every 3 weeks, while the BRIGHT SKIN lotion is used at-home on a daily basis.
Before & After